Shalam Israel, we are the Israelite School of Universal and Practical Knowledge of 1 West & 125th st, Harlem New York. Our purpose is to teach and wake up the true Hebrew Israelites of biblical antiquity, today known as so called Blacks, Hispanics and Native American Indians
The St. Louis County executive declared a state of emergency on Monday as officials and activists sought to regain control of the volatile streets after plainclothes police officers shot and critically wounded an 18-year-old black man who they said was firing on them late the night before. Violence has marred demonstrations marking the one-year anniversary of Brown's death.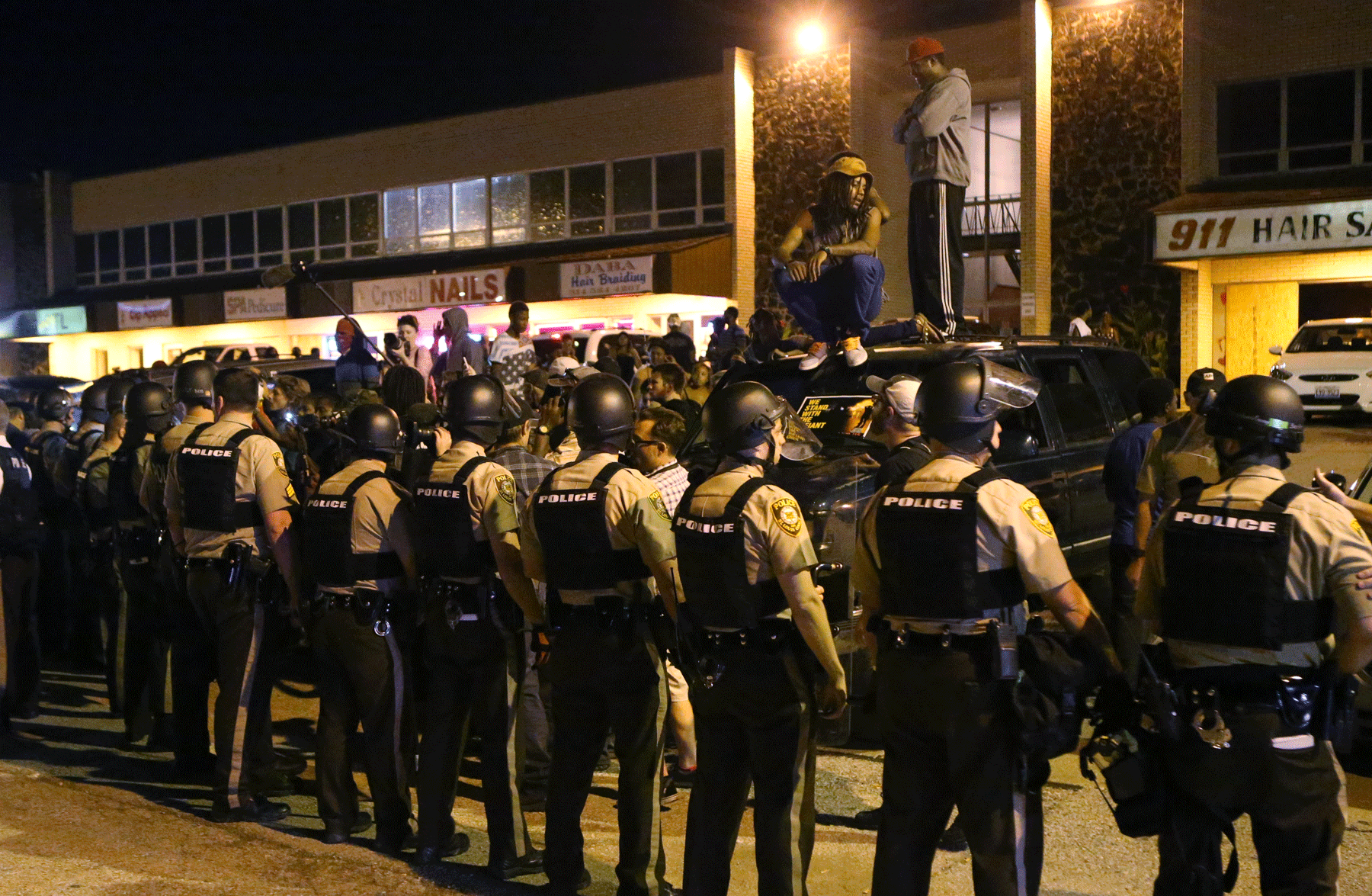 On Monday, roughly 200 demonstrators marched from Christ Church Cathedral to the Thomas F. Eagleton U.S. Courthouse in St. Louis. The protesters carried signs, chanted and prayed, demanding that the U.S. Justice Department take action.
At the Old Courthouse in downtown St. Louis, protesters hung a banner from two balloons. It read, "Racism still lives here #fightback."
Ecclesiastes‬ ‭7:7 - Surely oppression maketh a wise man mad; and a gift destroyeth the heart."
‭‭‬ ‬
These past few months we have watched more of our brothers and sisters be publicly executed by police than we have seen Isis execution videos. Our people are fed up and the oppression we have suffered as a nation can no longer be swept under the rug. The wise see this oppression and are angry, however without the knowledge of the truth the natural instinct is to respond violently.
I am in no way justifying burning down or destroying a neighborhood, but I understand how the love for your brother who's murdered can push people to rioting. Those who are not angry are spoiled by vain philosophies and false doctrines such as Christianity, which teaches you to only love your oppressor. We have been spoiled also by section 8, welfare, wic, and other government funded programs which teach us to rely on our slave master. As a nation we must spiritually separate from this beast, America, and rise as our own independent nation.
‭‭2 Corinthians‬ ‭10:4‬ ‭- For the weapons of our warfare are not carnal, but mighty through God to the pulling down of strongholds;
‬
The devil in the earth, the so called white man , was blessed with the sword. We as a people have no helicopters, ammunition factories, predictor drones,or true military might. It is impossible to fight him on a carnal level playing field in this day and age. The time now is for spiritual warfare. If we can get off drugs, stay away from illegal activity, organize, and return to our true culture, the Most High power of our fathers will destroy our enemies. We need to go above the super power called America and turn to the one true Supreme Power YAHAWAH.
Matthew‬ ‭24:6 - And ye shall hear of wars and rumours of wars: see that ye be not troubled: for all these things must come to pass, but the end is not yet. 7 - For nation shall rise against nation, and kingdom against kingdom: and there shall be famines, and pestilences, and earthquakes, in divers places.
‭‭‬
It should be evident that we are officially in the last days as prophesied in the holy scriptures.There have been countless wars and rumors of wars. We have now reached the start of the race wars here in America. All that we are witnessing is the beginning of nations rising against each other leading to the inevitable third worlds war. Through all of these events we should have no fear besides fearing our God.We are his chosen people and so long as we return back to him we will live and thrive. The time is now for us to gather ourselves together in the one true body of Christ.
Join us every Monday night live, with Commanding General Yahanna from 9-11pm, at www.ISUPK.com.Listen in live on Blogtalkradio @ 718-506-1384 to the Most controversial radio show ,The Grill. We have free live online classes, Tuesday through Friday from 7-9pm EST, on the website or call in on Skype @ 215-586-4851.
Join the Isupk every Thursday night/Friday morning live from 12-2 am eastern time on our new radio show Israelite vibez on WLNK Linkage Radio. As we break down Scriptures, current events and biblical prophecies. You can tune in on 101.5 fm. You can also stream it live on isupk.comIf you'd like to tune in over the phone dial 712 432 6858. For a question or a comment dial 914 662 6060. You can also follow us on Twitter @israelite_vibez to post a question or a comment and have it answered live on air!
Don't forget to pay your tithes and your freewill offerings. Tithes is a commandment from The Lord to give 10% of your increase and earning to the men of the Most High. Support the truth by donating and receiving audio CD's with 1 hour long teachings, DVD's with Video Footage from Street Speakings, along with official authentic Hebrew Israelite garments and accessories to represent your nationality.
Gather yourselves together with your brothers in this Holy War. Get down with this body, and build this nation up right for the Most High and Christ.