Shalam Israel, we are the Israelite School of Universal and Practical Knowledge of 1 West & 125th st, Harlem New York. Our purpose is to teach and wake up the true Hebrew Israelites of biblical antiquity, today known as so called Blacks, Hispanics and Native American Indians. Throughout America's history there have been Black and Hispanic militant groups that have arose to fight social injustices. One group which is widely overlooked is the Puerto Rican street gang, turned political activists known as, The Young Lords.
After WWII ended, massive unemployment caused Puerto Rican Jibaros to immigrate
as "Tomateros" or tomato pickers to U.S. migrant camps. In the 1950's, massive migrations continued, and in Chicago the first Puerto Rican barrios or communities were established. From 1960-1965 poverty, lack of supervised youth programs and the destabilization of Latino neighborhood support networks, Y.M.C.A. youth athletic clubs were turned into hard core street gangs.
The Young Lords began as a Puerto Rican turf gang in the Chicago neighborhood of Lincoln Park during the 1960s. September 23rd 1968 Reorganized by the Founder/Chairman Jose (Cha-Cha) Jimenez, the Young Lords were
restructured into a human rights movement for self determination for Puerto Rico and other nations, to facilitate neighborhood controlled development and empowerment. The Chicago Young Lords, founders of this Latino movement, were the sons and daughters of the first Puerto Rican immigrants. They successfully established a national grassroots movement for self-determination within the Barrios of the United States. It all began when Mayor Richard Daley decided to create an inner city suburb in Lincoln Park and, in the process, displaced the entire neighborhood of those first Puerto Ricans.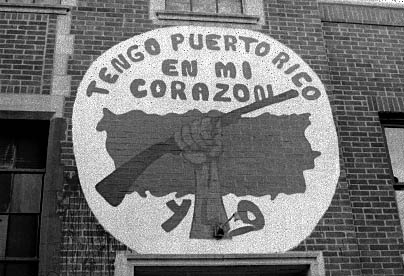 The New York chapter of the Young Lords began its short but eventful existence during the summer months of 1969, officially declaring its existence on July 26. They began by polling the East Harlem residents to find what were the most pressing issue on their minds. The residents identified garbage, left rotting in the streets because of ineffective sanitation services as the biggest problem.The Young Lords spent time cleaning the streets with their house brooms and bagging garbage in what they called the Garbage Offensive.The young men (and a handful of women) deployed attention-grabbing strategies to draw attention to social inequality. The Young Lords took the bags of garbage and built five-foot-tall barricades across Third Avenue, halting traffic. As a result, the garbage service improved, though it was never what it was in wealthier neighborhoods.
In December 1969, the group seized the First Spanish Methodist Church on Lexington Avenue and East 111th Street by drilling six-inch railroad spikes into the door. They began an 11-day occupation in which they provided free breakfast and clothing programs, health services, a day care center, and a liberation school from the church. The occupation attracted celebrity visitors and food donations from business leaders. In the end 105 people were peacefully arrested.
Then the Young Lords focused attention on health care. In June 1970, the members seized a mobile chest X-ray unit from Lexington Avenue and 116th Street. Within another month, the Young Lords took over the decrepit Lincoln Hospital for about 12 hours, demanding door-to-door preventive health services, maternal and child care, drug addiction care and senior citizens' services.
The group eventually disintegrated during the early 1970s, in part because of political infighting and F.B.I. Infiltration and an ill-advised move to Puerto Rico to take up a war of independence. In part because of their awareness of NYPD surveillance and repression, the group didn't keep a lot of records of their activities. Unfortunately the best kept records were in the hands of the NYPD who claim to have destroyed them, although no transcript was found for this claim.
Our persecutors are swifter than the eagles of the heaven: they pursued us upon the mountains, they laid wait for us in the wilderness. (‭Lamentations‬ ‭4‬:‭19‬ KJV)
Mountains in the scriptures are synonymous,depending on context, with governments or leading bodies. Using subtlety the FBI created the cointel program to destabilize radical domestic organizations. The Devil in the earth ,the so called white man, since Rome has used the eagle to symbolize his nation. Since Rome they have also been persecuting our people and have taken crafty counsel against the Most High's Chosen people.
For the weapons of our warfare are not carnal, but mighty through God to the pulling down of strong holds; (‭2 Corinthians‬ ‭10‬:‭4‬ KJV)
Many of the Young Lords ideologies were adopted from the Black Panthers. Like the Black panther party, the Young Lords believed in arming themselves against their oppressors. Once upon a time the pinnacle of weaponry technology was the sword. All nations providing they had able bodies were able to enter into the battle on a level playing field. Esau,the so called white man, was blessed with the sword. You can not fight against a nation who has predator drones ,hellfire missiles ,apache helicopters ,stealth fighter jets, etc. What we must do is pray to a power that is greater than a superpower known as America. When we come together under power of the Most High and Christ America, known as Babylon the great in the bible, will burn at the hands of our king.
Now therefore give not your daughters unto their sons, neither take their daughters unto your sons, nor seek their peace or their wealth for ever: that ye may be strong, and eat the good of the land, and leave it for an inheritance to your children for ever. (‭Ezra‬ ‭9‬:‭12‬ KJV)
The Young Lords were not crusaders for an exclusive group.They fought social injustices for what they considered all oppressed people. This included not only African Americans and Puerto Rican minorities, but they extended their resources and programs to other nations such as Asians. Every nation on earth has their own country with borders, government, military power, resources, language and culture. So called black and Hispanics have had these stripped from us and no matter where we migrate to on the earth we will be ruled by a heathen nation. In order for us to grow in strength and wealth we must follow the blueprint of our ancestors. The bible is a document that the Most High power left for us as the solution to escaping oppression and ruling this planet.
Behold, I have taught you statutes and judgments, even as the Lord my God commanded me, that ye should do so in the land whither ye go to possess it. Keep therefore and do them; for this is your wisdom and your understanding in the sight of the nations, which shall hear all these statutes, and say, Surely this great nation is a wise and understanding people. For what nation is there so great, who hath God so nigh unto them, as the Lord our God is in all things that we call upon him for? (‭Deuteronomy‬ ‭4‬:‭5-7‬ KJV)
Another ideology of the Young Lords was trying to attach themselves with history of the indigenous Puerto Ricans. However the true culture and identity of the natives to the island goes far beyond the Taino Indian, all the way back to Hebrew Israelite descent. Our true culture is the law statutes and commandments of the Most High. Only by returning to our true culture and heritage will we be able to fix our people. Where all others have failed the ISUPK shall succeed through the power of the Most High and Christ.
Join us every Monday night live, with Commanding General Yahanna from 9-11pm, at www.ISUPK.com.Listen in live on Blogtalkradio @ 718-506-1384 to the Most controversial radio show ,The Grill. We have free live online classes, Tuesday through Friday from 7-9pm EST, on the website or call in on Skype @ 215-586-4851.
Join the Isupk every Thursday night/Friday morning live from 12-2 am eastern time on our new radio show Israelite vibez on WLNK Linkage Radio. As we break down Scriptures, current events and biblical prophecies. You can tune in on 101.5 fm.You can also stream it live on isupk.comIf you'd like to tune in over the phone dial 712 432 6858. For a question or a comment dial 914 662 6060. You can also follow us on Twitter @israelite_vibez to post a question or a comment and have it answered live on air!
Don't forget to pay your tithes and your freewill offerings. Tithes is a commandment from The Lord to give 10% of your increase and earning to the men of the Most High. Support the truth by donating and receiving audio CD's with 1 hour long teachings, DVD's with Video Footage from Street Speakings, along with official authentic Hebrew Israelite garments and accessories to represent your nationality.
Gather yourselves together with your brothers in this Holy War. Get down with this body, and build this nation up right for the Most High and Christ.