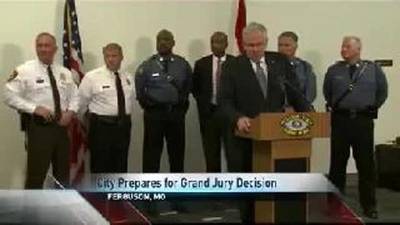 Law Enforcement, Businesses Prepare for Possible Unrest With Decision on Whether to Indict Police Officer
Workers are boarding up windows in Ferguson, Mo., and police are re-stocking tear gas as they prepare for civil unrest that could follow a grand jury decision on whether to indict a police officer in the shooting death of an unarmed 18-year-old.
Soon after the Aug. 9 fatal shooting of black teenager Michael Brown by white police officer Darren Wilson, a grand jury began deciding whether to indict the officer for his role in the death. The jury, which has been meeting weekly for the most part, could make a decision as early as mid-November, the St. Louis County prosecutor's office said.
And as the nation awaits that decision, those on the ground are making preparations. "We've been doing board-ups for probably the past month, the phone's been ringing off the hook," said Brian Krieger, owner of American Board Up and Construction Services in St. Louis. "I've already purchased 500 sheets of plywood."
He said he expects work to increase in the coming days as businesses, especially those in the Ferguson area, take precautions for the announcement.
Local police, whose military-style gear seemed to fuel some of the violent confrontations during the summer, have been increasing training and trying to find ways to diffuse protests when the grand jury decision is announced.
As things intensified in August, the state police were put in charge, and later the National Guard was called in. Now, a unified command of state, county and city police departments are gearing up. A spokesman for the unified command couldn't be reached for comment.
"Commanders in our department have been meeting almost daily," said Brian Schellman, spokesman for the St. Louis County Police Department. "We don't really know what to expect, but as a police department it's our job to prepare ourselves. We can't be caught off guard one way or another."
The department has spent more than $100,000 on gear since August, including $42,824 on "less-lethal munitions" and more than $2,000 on flex cuffs, which are single-use plastic restraints, Sgt. Schellman said. The department also replaced two cruisers totaled during protests.
Officers who might be assigned to crowd control have received extra training on responding to civil disturbances, including how to avoid unnecessary conflict with protesters, as well as how to deal with media rights and 14th Amendment considerations.
"If we never have to use tear gas again, we're fine with it," Sgt. Schellman said. "We will never use it against peaceful protesters."
The Justice Department on Thursday began a two-day "Fair and Impartial Policing" training session for local law enforcement, said a department release. "Training is specifically designed to enhance officers' understanding of how bias—including implicit or unconscious bias—affects officer behavior," the statement said.
St. Louis-area school districts have been working with security officials to plan ways to help students safely make their way to and from school on streets that might have active protests, said Sherrie Wehner, spokeswoman for EducationPlus, a nonprofit consortium covering 61 school districts in the area.
The grand jury of 12 convened in May, but after being given the Brown case, their term of service was extended through January. In September, they began working solely on the Brown matter, meeting according to their own scheduling.
The St. Louis County Prosecutor's office, which is overseeing the process, said it expects a decision as early as mid-November, said office spokesman Ed Magee. The jurors are still hearing testimony and have yet to begin deliberating, he said.
The grand jury has been dogged by alleged leaks from those involved with their deliberations and criticisms of a lack of transparency, leading some to assume Mr. Wilson won't be indicted, said Mervyn Marcano, spokesman for Ferguson October, a protest organizing group.
"Folks are outraged not only by the killing of Mike Brown, but the government's handling of the case," Mr. Marcano said. "I think you'll see some level of anger no matter what the charge is."
Organizers have said they are trying to control the rage.
"We're certainly planning for peaceful protest," Mr. Marcano said, adding that the group can only "plan for nonviolent protest and hope for the best."
The American Civil Liberties Union of Missouri announced Thursday the launch of a smartphone app that helps people record footage of interactions with law enforcement and then send an automated incident report to the organization for review.
The app has been in place in New York since 2012 and downloaded more than 30,000 times.
Last week, Attorney General Eric Holder criticized unauthorized releases of information about the case. "Whoever the sources of the leaks are needs to shut up,'' he said.
Mr. Holder said there is a clear need for "wholesale change'' in the Ferguson Police Department, but noted that it was wrong for people to try to predict exactly what those changes will be, or what the outcome of investigations into the shooting of Mr. Brown will be.
In addition to the grand jury, the Justice Department's Civil Rights Division is conducting a pattern-and-practice probe to determine whether the 53-member Ferguson force has been properly trained and supervised on fair treatment of people.
Blocks away from the Ferguson police station, Kelly Braun said her stomach aches because she's worried.
Ms. Braun, owner of Marley's Bar and Grill in downtown Ferguson, hasn't closed her six-year-old business—even during the most violent days of unrest in Ferguson. She said she plans to stay open, even if there are no customers, because her employees depend on a paycheck. But she thinks there is a chance the grand jury announcement will force her to temporarily close.
"A few weeks ago, [protesters] marched by screaming that they were going to burn our place to the ground," she said.
Cold fall weather is also a consideration and could affect turnout and intensity of outdoor protests, said Dr. Paul Gilje, a history professor at the University of Oklahoma who wrote the book "Riots in America."
"Weather does matter. It's hard to be out in the street rioting if the weather's 25 degrees," he said. "But it's not impossible."
7 Surely oppression maketh a wise man mad; and a gift destroyeth the heart.
12 Hope deferred maketh the heart sick: but when the desire cometh, it is a tree of life.