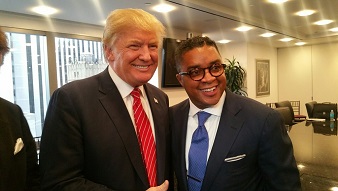 On Monday afternoon, religious leaders-with a substantial number of them being Black–were in attendance at Donald Trump's Trump Tower office with the 2016 GOP presidential hopeful for what was billed as a private meeting at the time.
The meeting was held on the premise that Trump would be able to "reach out to an influential set of Republican primary voters", according to CNN.com. Of course, the meeting itself should not come as a surprise as it is par for the course and indicative of the typical dog and pony shows put on by political candidates. The real disappointing factor is the presence of highly influential Black clergymen in the meeting that afternoon who, at this point, would likely be averse to "handling issues at home", such as the long dirty laundry list of issues plaguing Black Society.
Read the full article here and tell us what you think!
Whose possessors slay them, and hold themselves not guilty: and they that sell them say, Blessed be the Lord; for I am rich: and their own shepherds pity them not.
Though hand join in hand, the wicked shall not be unpunished: but the seed of the righteous shall be delivered.