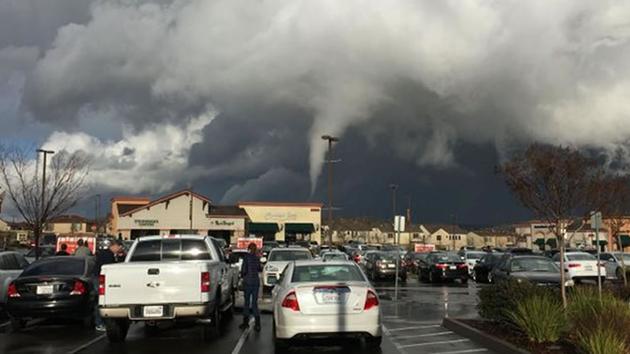 A possible funnel cloud was spotted at a Raley's parking lot in Folsom, Calif. Dec. 24, 2015. (@fatbootyclarkey/Twitter)
Multiple tornadoes have been reported across Northern California.
A tornado warning has been lifted for parts of El Dorado county, East of Sacramento, where a tornado touched down and traveled an estimated 8 miles in El Dorado and Amador counties.
Read the full aricle here and tell us what you think!
20 Shall not the day of the Lord be darkness, and not light? even very dark, and no brightness in it?
21 I hate, I despise your feast days, and I will not smell in your solemn assemblies.
22 Though ye offer me burnt offerings and your meat offerings, I will not accept them: neither will I regard the peace offerings of your fat beasts.
23 Take thou away from me the noise of thy songs; for I will not hear the melody of thy viols.
24 But let judgment run down as waters, and righteousness as a mighty stream.
Isaiah 28:2 Behold, the Lord hath a mighty and strong one, which as a tempest of hail and a destroying storm, as a flood of mighty waters overflowing, shall cast down to the earth with the hand.
Isaiah 29:6 Thou shalt be visited of the Lord of hosts with thunder, and with earthquake, and great noise, with storm and tempest, and the flame of devouring fire.
Isaiah 30:30 And the Lord shall cause his glorious voice to be heard, and shall shew the lighting down of his arm, with the indignation of his anger, and with the flame of a devouring fire, with scattering, and tempest, and hailstones.