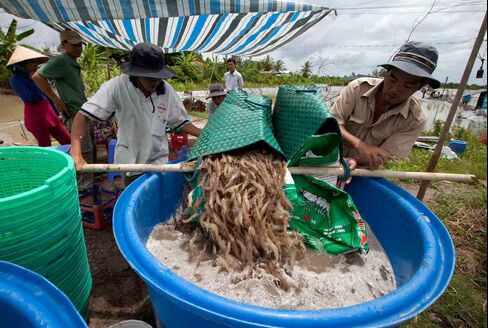 Shrimp farmers in Ca Mau province in Vietnam, use ice made from tap water that the government says isn't safe to drink without boiling it, Sept 10, 2012. Photographer: Viet Dung Tran/ Bloomberg Markets via Bloomberg.
At Ngoc Sinh Seafoods Trading & Processing Export Enterprise, a seafood exporter on Vietnam's southern coast, workers stand on a dirty floor sorting shrimp one hot September day. There's trash on the floor, and flies crawl over baskets of processed shrimp stacked in an unchilled room in Ca Mau.
Read the full articke here and tell us what you think!
http://www.bloomberg.com/news/articles/2012-10-11/asian-seafood-raised-on-pig-feces-approved-for-u-s-consumers
Deuteronomy 14:8
8 And the swine, because it divideth the hoof, yet cheweth not the cud, it is unclean unto you: ye shall not eat of their flesh, nor touch their dead carcase.
Isaiah 40:17
All nations before him are as nothing; and they are counted to him less than nothing, and vanity.