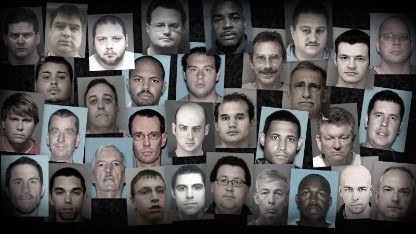 Just days after getting arrested in a child sex sting,Robert Kingsolver is a long way from his beloved job at Walt Disney World.
Inside his rented house in a suburban Orlando neighborhood filled with children, he sits in a folding chair in a nearly empty room, wires dangling in the corner where his computer used to be connected.
Now, he can't be online or near children.
"My life is ruined," he told CNN in an interview at his home. "My family's life is ruined. My kids' life is ruined. I've devastated my parents because of bad judgment."
Kingsolver, 49, is one of at least 35 Disney employees arrested since 2006 and accused of sex crimes involving children, trying to meet a minor for sex, or for possession of child pornography, according to a six-month CNN investigation that examined police and court records, and interviewed law enforcement officials and some of the men who have been arrested.
Five Universal Studios employees and two employees from SeaWorld have also been arrested.
So far, a total of 32 have been convicted, with the remaining cases pending.
Two cases, which were for possession of child pornography, occurred on Disney property, according to police reports.
None of the cases involved children or teenagers visiting the parks.
Kingsolver, a service manager who oversaw ride repairs at the Magic Kingdom, has pleaded not guilty to soliciting a child for sexual acts and traveling to meet a minor for unlawful sexual activity.
He said he thought he was going to meet a 14-year-old girl for sex at a house set up by detectives from the Lake County, Florida, Sheriff's Office, according to police records. Instead, when he showed up at the house, he was met by detectives.
Kingsolver told CNN he was just trying to protect the girl, and planned to call authorities when he showed up at the house. He said his family is standing by him.
"They love me," Kingsolver said. "My kids know me, and they know how much I care for kids. They know that their dad is not somebody that will go out and hurt a young child. They know their dad is somebody that would go out and protect a young child at any cost."
Other Disney employees caught up in the police stings and child porn cases include security guards, a costumer, a VIP tour guide in training, a gift shop employee and maintenance workers, according to police and court records.
"Wherever you find children, you'll find sexual predators that want to be there," Polk County Sheriff Grady Judd said.
In the latest sting that ended in July, two Disney employees and an employee at Universal Studios were among those arrested by Polk County Sheriff's detectives. One of those arrested was 40-year-old Allen Treaster, a concierge at Disney's Animal Kingdom Lodge who used to work at Disney's popular Toy Story ride. The police report said he advertised himself online as "Big Teddy Bear for younger chaser."
Detectives arrested Treaster after he showed up at a house to meet someone police said he thought was a 14-year-old boy, hoping to "fulfill a fantasy," according to his text messages. Treaster was actually communicating with an undercover detective. He has pleaded not guilty.
During the videotaped interrogation with detectives, Treaster confessed to having sex with a teenage boy he met online 3½ weeks before his arrest. He said he drove to Georgia to meet the boy at his house, then took him to a hotel where they had sex, according to the interrogation video.
The undercover detective asked Treaster, "OK and when did you find out how old he was?"
"Honestly, I found out before I met him, but you know," Treaster said.
"So you still went for that, to have sex with him, knowing he was 15 years old?" the detective asked.
Treaster did not return calls from CNN.
He was one of four Disney employees and one Universal employee arrested in sex stings or in child porn cases from June 10 to July 1.
Previous arrests include:
• Cedric Cuthbert, the night shift custodial manager at Disney's Port Orleans resort, who was downloading child porn last year on his work computer while writing a sermon for his church, where he was the pastor, according to police. Cuthbert pleaded no contest to the charges and was sentenced to six years in prison.
• Paul Fazio, who worked in an Animal Kingdom Lodge gift shop. Fazio was convicted of downloading videos showing "multiple scenes of nude prepubescent children engaging in sexual activity with adults and other children," the police report said.
• William Marrero-Maldonado, who worked for Disney security. He was arrested in April after an Osceola County Sheriff's Office investigation claimed that he was downloading child porn videos. He has pleaded not guilty.
In the February sting by the Lake County Sheriff's Office, police also arrested 32-year-old Patrick Holgerson, another Disney employee. Holgerson sent nude photos and engaged in explicit sexual chats online with someone he thought was a 13-year-old boy and his uncle, according to police records. After he showed up to meet the boy, Holgerson ran from police.
During a videotaped interview with sheriff's detectives after the arrest, Holgerson said he was a character actor at Disney and in training to become a VIP tour guide.
He pleaded not guilty and said he went to the home to make sure the boy was OK.
"I work with kids," Holgerson told the detectives during the videotaped interrogation. "I love kids and not in a bad way. I just have a strong connection with kids. I like working with kids. I just enjoy helping them grow and that's why I've been working with high schools for so long is because a lot of these kids look up to me.
"And that's why I was honestly worried about this kid. Because I felt his uncle was in the wrong. I would never do anything with the kid, I promise. I didn't want him hurt. And I'm being honest here."
The sprawling Disney theme park has about 70,000 employees.
In a statement to CNN, Disney spokeswoman Jacquee Wahler said, "Providing a safe environment for children and families is a responsibility we take very seriously. We have extensive measures in place, including pre-employment and ongoing criminal background checks and computer monitoring and firewalls.
"The numbers reported by CNN represent one one-hundredth of one percent of the 300,000 people we have employed during this time period. We continue to work closely with law enforcement and organizations like the National Center for Missing and Exploited Children as we constantly strengthen our efforts."
Universal Studios said it fired Matthew Cody Myers, who was arrested in the July sting by the Polk County Sheriff's Office after police say he showed up to have sex with a 14-year-old girl. He told detectives during an interrogation that he wouldn't have really gone through with it. He pleaded not guilty, and did not return CNN's calls.
In a statement, Universal Studios spokesman Tom Schroder said, "We have zero tolerance for this kind of activity. We deal with situations such as this immediately and permanently." The company, like Disney and SeaWorld, requires that "all our team members undergo thorough background checks as part of the hiring process."
SeaWorld spokesman Nick Gollattscheck said, "The safety of our team members and employees is our top priority," adding that the company has "policies and procedures in place and we need to take appropriate action as needed."
Grady Judd, the sheriff of Polk County, Florida, said Disney and other businesses that cater to children need more leeway to use polygraph tests when hiring employees.
"Anyone that works around children, whether it's a church, in the nursery, or whether it's Disney or any of our other theme parks, we should be able to give a polygraph examination to them," Judd said.
Congress, citing privacy and civil liberties issues, has made it illegal for most private companies to polygraph employees.
In the wake of the CNN investigation, U.S. Rep. Dennis Ross, R-Florida, has proposed legislation that would add an exemption to the Polygraph Act of 1988. The proposal would give businesses that cater to children the option to use a polygraph to screen prospective employees. Specifically, the exemption would apply to prospective employees "whose activities would involve the care or supervision of children or regular access to children who are cared for or supervised by another employee," or where there is a "high probability" the employee "will interact with unsupervised children on frequent basis."
"We owe it to ourselves, we owe it to our children, we owe it to our future to make sure we don't let the next predator find a victim," Ross said.
Asked specifically about the number of theme park employee arrests, Ross said, "You know I can't put the label on any particular employer because there's just too many of them -- period. And it doesn't matter so much the industry but it's the act that it's happening. And I understand the propensity is probably greater where there are more opportunities to be around children and that's something that I find that we have to offer them the tools necessary so that we can prevent it."
In Robert Kingsolver's case, police records and chat logs show he thought he was e-mailing and texting a 14-year-old girl and her father who he met on Craigslist to set up a meeting. The pair was actually a Lake County Sheriff's detective posing as both the father and girl.
"The defendant specifically stated he would perform oral sex when referring to what he was going to do with the 14-year-old child," the police report said.
Kingsolver, in the chat logs released by police, wrote he was "actually a very cuddling and snuggling kind of guy" and that "I really enjoy giving oral."
Kingsolver wrote, "I work for Disney so I love to see dads having fun with their daughters. I believe in treating a lady like a princess. I treat ladies with respect because that is how I hope my daughter gets treated."
In the interview with CNN, Kingsolver said police got it all wrong. He said he planned to call authorities after showing up at the home and meeting the girl and her father.
"I'm not the monster that people are saying I am, and that the news, CNN and everyone else is saying that I am. I'm an honest guy that I thought was trying to help and I thought I was trying to do the right thing. Did I do it in the right manner? No, obviously not," he said.
Kingsolver, who is separated from his wife, has a son and a daughter as well as two stepchildren. During the CNN interview, he reminisced about seeing children and their families enjoying the rides at the park.
"It was like going to a fun -- some place you really enjoyed," he said. "The best part about that job was just seeing families. Some family you knew had saved up literally for a decade to come there and spend a few days. Just to see them having fun and to see the, you know, look on the children's faces when they get to see, you know, Prince Charming or one of the princesses or you know, riding Barnstormer or anything, or any of the rides or just walking around and maybe running into Mickey. It was just, that was the best part, just seeing kids glow and seeing their heroes. I just enjoyed that so much."
Asked why he had a sexually laced chat with people he thought were a father and 14-year-old girl, he had an explanation.
John 8:44 Ye are of your father the devil, and the lusts of your father ye will do. He was a murderer from the beginning, and abode not in the truth, because there is no truth in him. When he speaketh a lie, he speaketh of his own: for he is a liar, and the father of it.
Romans 1:24 Wherefore God also gave them up to uncleanness through the lusts of their own hearts,
1 John 2:16 For all that is in the world, the lust of the flesh, and the lust of the eyes, and the pride of life, is not of the Father, but is of the world.